The First Chapter_Trace Root: Unfolding Asian Stories
The First Chapter_Trace Root : Unfolding Asian Stories traces in a diachronic fashion the root of Asian sprit running through contemporary art culture. By broadening the scope of Asian art beyond its traditional regional and temporal definitions, this exhibition intends to track the process of modernization and globalization and the influence of Asian philosophy within the world of art. The goal is to re-locate the position of Asia within the global context, while deconstructing perceived dichotomies between West and East. Composed of four sections entitled 'Myth and Fantasy', 'Nature and Body', 'Trace of Mind', and 'Past in Present', this exhibition will include 51 international artists. The First Chapter_Trace Root strives to understand the historical stages of contemporary art and attempts to foretell its future prospects, thus illuminating the flow of exchanges and mutual influences between West and East.
Myth and Fantasy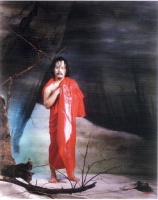 Hong Lei, China: After the Song Dynasty 'Sakyam Coming Out of The Mountains' by Liang Kai Mengfu
Source: Foundation Gwangju Biennale
The imagination of a mythical time/space before history has always fascinated creative artists. Shamanistic communication and traditional ritual further provide visual languages for making original works. The modern myths and legends presented in this section result from the artists' reinventions of famous themes, demonstrating an intense effort to develop a dynamic dialogue with their cultural roots.
Nature and Body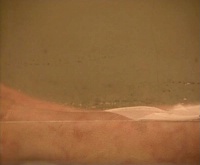 Araya Rasdjarmrearnsook, Thailand: Female Scape, 2001
Source: Foundation Gwangju Biennale
A dominant element in traditional Asian art, landscape imagery is now again attracting many contemporary artists. Works in this section demonstrate multiple directions in artistic experimentation, through which artists imbue images of Nature with a strong sense of contemporaneity. Instead of constituting a self-contained genre, these works respond to the other two groups of works in this section focusing on the body and interiority in contemporary life.
Trace of Mind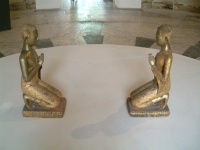 David Hammons, USA: Praying for Safety 1997
Source: Foundation Gwangju Biennale
Influenced by Asian philosophy and Zen Buddhism, many contemporary artists have created works of art as spontaneous expressions of the mind. Whereas this tradition persists in both East and West, it has gained additional strength from new technological inventions. This section presents representative works in this art tradition, including a selection of works from the Fluxus Movement and some of the most recent new media installations.
Past in Present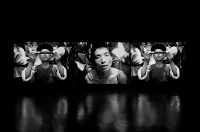 Chen Chieh-jen Lingchi, Taiwan : Echoes of a Historical Photograph, 2002 - Three-Channel Video Installation
Source: Foundation Gwangju Biennale
Instead of representing history and memory as given facts, contemporary artists actively examine the intricate relationship between past and present. They find history in the midst of new urban spaces, and explore how memories are constructed through media, photography, and objects. As a result, their representations of the present are complex and energizing - images of a new Asia that challenge conventional wisdom about this vast space.
Chief Curator
Wu Hung
, Ph. D. in Art History and Anthropology, Harvard University, is an art historian, curator, and writer. Dr. Wu is currently Professor and Director, Center for the Art of East Asia, University of Chicago. He was the Chief Curator of the First Guangzhou Triennial, and recently curated Visual Performance (Chicago 2004) and About Beauty in Berlin's House of World Cultures (2005).
Curators
Binghui Huangfu, trained as an artist, curator, and theorist, served as Director of the Asia Australia Arts Centre, Sydney in 2003-2006. She was the director and curator of the Earl Lu Gallery, LASALLE-SIA College of the Arts, Singapore from 1996 to 2003.
Shaheen Merali
is a visual artist, curator, and educator. He has been Head of the Department for exhibition, film, and new media at the House of World Cultures, Berlin, since 2003. Previously he served as Lecturer at Central Saint Martins School of Art and Design (1993-1999), and Researcher at the University of Westminster (1999-2003).
Collaborating Curator
Jacquelynn Baas
, Ph.D. Art History, University of Michigan, is Director Emeritus of the University of California Berkeley Art Museum and Pacific Film Archive and an independent scholar. Her recent publications include Smile of the Buddha: Eastern Philosophy and Western Art from Monet to Today (University of California Press, 2005).
Participating Artists
Abdul, Lida (Afghanistan/USA)

Autogena, Lise & Portway, Joshua (Denmark & UK)

Benyahia, Samta (Algeria/France)

Islam, Runa (Bangladesh/UK)

Kamisato, Akio/ Mashimo, Takehisa/ Shibata, Satoshi (Japan)

Le, Dinh Q. (Vietnam/USA)

Nguyen-Hatsushiba, Jun (Vietnam/Japan)

Phaophanit, Vong (Laos/UK)

Pelletier, Jean-Marc (Canada)

Rasdjarmrearnsook, Araya (Thailand)

Shiota, Chiharu (Japan/Germany)

Sriwanichpoom, Manit (Thailand)

Tolaas, Sissel (Norway/Germany)

Vasan, Sitthiket (Thailand/USA)

Victor, Suzann (Singapore/Australia)

Welsby, Chris (UK/Canada)

Zhang, Huan (China/USA)

Zheng, Liu (China)
Source:www.gwangju-biennale.org